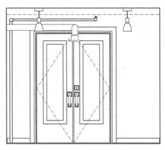 BEFORE
Front Entrance
Existing Entrance Doors In Storage
First Floor Entrance to the Elevator
Elevator Entrance
Access to Exit
Fourth Floor
Existing Fire Escape
DESIGN CONCEPTS
Restored Entrance Doors
New Stair Lobby with Directory
New Corridor Lobby
New Washrooms Interior
AFTER
Finished Fourth Floor Prior to
Handover to Tenant's Contractor
New Exterior Doors & Signage
The building, consisting of a 4 storey brick and heavy timber construction, is located in Downtown Toronto, Ontario and is part of the King Spadina Reinvestment Area. It was also one of the few remaining factory buildings still in its original condition and retaining its original purpose in the Fashion District - that is the manufacturing of Wedding Dresses.
The Client has been slowly updating the building over the last 5 years including new windows and heating systems, but wanted a more comprehensive overview in light of upgrading the interiors and providing an elevator lobby. I was brought in to carry out a thorough building code review, and propose new interior finishes for the existing washrooms and a new elevator lobby.
While maintaining the original feel of the building, and the existing elevator core, I proposed inserting new modern finishes to compliment the existing timber construction. No new ceilings would be introduced, with all existing and new services being fully exposed.
The new lobby would be entered off the first floor stair landing, and be wrapped in a "wood" paneling. The existing washrooms would be reworked into the scheme in their existing configurations, and new added as required by tenant occupancy. In this way, the Client could gradually phase out his business, and attract new tenants on a floor by floor basis.
Shortly after completing one upgrade on the Fourth Floor and while the finishes upgrade were underway in the Front Entrance, the Client rented the entire building to an Adult Education Centre. This in turn, resulted in a Change of Use to the building since it was no longer a factory nor office building. The Change entailed extensive upgrades to the existing mechanical, electrical & life safety systems. Additional washrooms and a new exit stair were also required.
Unfortunately, there were difficulties with the various parties involved, and the project gained a life of its own. It took over 2 years to complete the project with my role changing from consulting on design standards, to providing full architectural services, and finally assuming the role of the project manager. However, the project was completed within a reasonable budget given the circumstances.